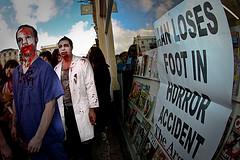 The company "Petersburg hotels, one of the fastest growing and dynamic companies in the hospitality industry of St. Petersburg, announces the opening of a new mini-budget hotel" Friends. " Located a few steps from the Griboyedov channel and the station garden, a mini-hotel opened in June 2009 and has already managed to please its guests a friendly atmosphere and hospitality. Name of the mini-hotel was chosen not without reason: the motifs of the series "Friends" can be catch as a color scheme and decorative elements of the rooms and a friendly atmosphere where you can meet in the lobby and watch a movie on a wide plasma screen TV, vigorously discussing the latest news over a cup of tea. Mini-hotel "Friends" has 11 rooms: they are double rooms and luxury with the possibility of extra bed and a place in 6-bed dorm room.
Room includes a soft bunk bed, a sofa for additional accommodation, TV, table and mirror. Convenient layout of rooms provides an opportunity not only to accommodate the comfort, but to achieve maximum quiet holiday. Friendly administrators always answer any questions about accommodation and stay in St. Petersburg: from the provision of background information before ordering tours, tickets, train and plane tickets. Relaxing music from columns, the presence of the spacious refrigerator, microwave, washing machine, dishes, shower and toilet facilities make room mini-hotel "Friends" comfortable.
A table football (kicker) adds some zest the prevailing atmosphere and gives the visitor a wonderful chance to try their hand in the fight for first place. Price rates vary depending on the season: distinguish between low, medium, high, and White Nights. In this time range prices distributed from 1700 to 2300 p. per double room per triple from 2100 to 2900 p., an extra bed has a price ranging from 400 to 600 p. .. A place in the six-room – is the most economical option, even for the hostel – from 500 to 900 rub.